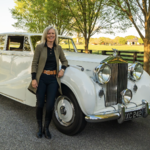 Meg Atkinson
A little bit about me...
In an unexpected collaboration that fuses equestrian passion and the world of luxury real estate, Meg Atkinson, a lifelong horse enthusiast, and Damian Hall, one of Christie's top real estate brokers, have joined forces to create DHG | Equestrian.
Their unique partnership brings together a deep understanding of the equestrian lifestyle and an unparalleled expertise in the high-end property market. With Meg's unwavering love for horses and extensive real estate experience, along with Damian's exceptional knowledge of luxury real estate, this dynamic duo continue to revolutionize the way equestrian properties are sold in Landrum, Campobello, Tryon, Columbus, and Mill Spring.
Meg N. Atkinson is a multi-talented professional with a diverse background in interior design, real estate, and forensic psychology. Alongside her Bachelor of Fine Arts in Interior Design from the University of Georgia, specializing in architectural design, Meg also holds a Masters in Forensic Psychology. Her expertise in these fields has allowed her to create unique connections between design, horses, and therapeutic intervention.
For over 30 years, Meg has been involved in the design industry, owning her own design business and working on various commercial and residential projects, including flipping houses. Simultaneously, she has worked extensively with the Guardian ad Litem Program in North Carolina and South Carolina, using her expertise in forensic psychology to provide therapeutic intervention for traumatized children. Meg's passion for horses led her to incorporate equine-assisted therapy into her work, utilizing horses as a medium for healing and growth.
Meg's commitment to helping others extends beyond traditional design and therapy settings. She won a national award for her participation in designing a transition home in collaboration with a team of incarcerated girls at the South Carolina Department of Juvenile Justice. Additionally, she has worked with dangerous offenders, employing horses as part of an effort to rehabilitate and reintegrate them into society.
Meg's unique blend of skills in design, horses, and forensic psychology allows her to approach real estate from a holistic perspective. Understanding the impact of environment on individuals' well-being, she leverages her expertise to find properties that not only meet clients' real estate needs but also support their emotional and therapeutic goals. Whether it's creating a serene and healing space or finding equestrian-friendly properties, Meg's comprehensive understanding of design, horses, and psychology enables her to provide exceptional service to her clients.